Babylon – Jewel of the South – A lush, green paradise hidden deep in the Badlands. You'll want for nothing, but everything comes with a price.
Ruby and Cheveyo meet again within the vast stone city, where Queen Semiramis rules with an iron fist, and Babylon has only one punishment – Hanging.
It doesn't take long for Cheveyo to sense the taint of the shadow corrupting this idyllic land. With an enforced curfew, there's much more than just guards stalking the dark streets overnight.
Together, Ruby and Cheveyo must face the greatest challenge of their lives if they are to save the land from an unimaginable evil.
Can they uncover the dark secrets of this seeming utopia, or will they succumb to the sinister plans of the cabal controlling everything from the shadows?
---
Babylon is the second novella in the Weird West / Supernatural Western Horror series Chronicles of the Fallen from Amazon best selling author Gareth Clegg.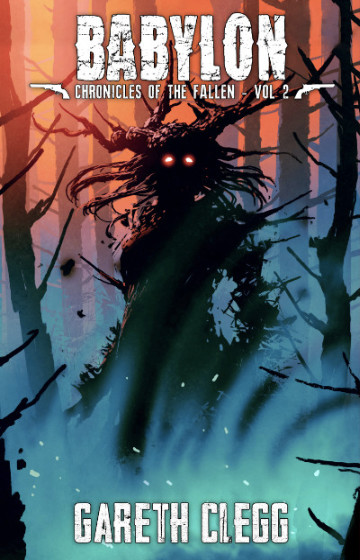 Publisher:
Twisted Fate Publishing
Available in:
eBook + Paperback
Published: Aug 1, 2020
Series:
CHRONICLES OF THE FALLEN
---
★★★★★
Gareth Clegg is quickly becoming a must-read for any fan of dark fantasy. Babylon is a fantastic second installment, the book throws you right into the middle of the action and never lets up.
★★★★★
Well, after reading The Crowman I waited impatiently for the second novella in the Weird West series, fortunately I didn't have to wait long and I was not disappointed. Babylon once again features Cheveyo and Ruby, what a team! Not as much western as The Crowman but a lot more supernatural which I like.
★★★★★
I enjoyed The Crowman so much I immediately started reading Babylon, the second book in the trilogy. Like its predecessor it did not disappoint. It has elements of the comics of my youth with names like 'Astounding Tales' or 'Uncanny Tales', coupled with a strong dash of Lovecraftian horror all wrapped in a Western novel…these are a few of my favourite things.

As before the good characters are easy to like, the bad are even more unpleasant than The Crowman who at least had some redeeming qualities. A page turner full of unsettling horror. I love it.
---